My Grandfather Ramón Andres
The fruits of perseverance and diligence always pay life gifts dividends.
 My Grand Father Ramon Andres Marrero Caballero from my Mother's side of the family was born in 1908 and died in 1997 on Christmas eve.
He went through pandemics and became a survivor from World Wars, the great depression and many other life trials and tribulations.
When he was on 3rd grade he won two academic awards for attendance and academic progress and it was gifted by his teacher circa 1916: An English/Spanish/French/Italian dictionary and a hard bound beautiful illustrated tome of Uncle Tom's Cabin; a keepsake I still treasure.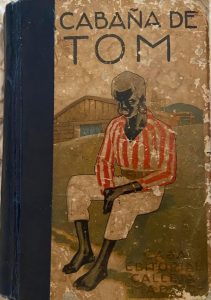 When I was 10 years old I read the novel several times and it brought tears to my eyes.
It helped me to have compassion for other races.
He only reached the 4th grade school level.
But sadly, He had to abandon the school to go to work and help his family.
And yet, he still managed to become a humble man of culture by daily reading on his own.  he was always surrounded by many books and publications of all sorts.
My Great grandma was a pious devoted Catholic and loving lady who practiced the presence of God. She was constantly praying during her daily home tasks and blessing his children.
And She will bestow upon you God's blessings with a beautiful smile and tenderness.
When she suffered from senility  due to old age in her 90's; she will still mumble God on her lips and will look at you with love and affection.  There were moments that she will recognize me and become very happy then embrace you with God on her lips.
Rigo Muniz – All Rights Reserved.